Wind Turbine
Durable, Reliable Wiring Accessories For Wind Turbine
This is the time that the world boosts to build up the wind farm and raise the proportion of wind energy while the manufacturers of wind turbine have faced greater challenge of more stable system and higher generated electrical energy. At the same time, more and more countries invested in developing offshore wind farm. The harsh environment of ocean is the great trial of the durability of wind turbine and facilities. How to provide stable, reliable, and long term solution of off-shore wind facilities is another challenge of wind turbine manufacturers.

The high quality and full range of wiring accessories of Hua Wei can meet the high standard of quality, durability, and safety of wind energy. We emphasis the engineering details and focus on operation convenience for users that can accelerate the assembly efficiency of all kinds of control panels used in wind turbine. We insist on high quality and that's why our products can provide long term and more reliable wiring solution. Each item of products is designed for well-insulated, good fixture, and suitable for applied to high vibration environment, and the high quality of products ensures long term usage to reduce maintenance cost.

The products of Hua Wei comply with RoHS, REACH, Halogen free, and low smoke requirements, and certified by UL, CSA,and DNV-GL. The specification of product, such as endurance temperature, tensile strength, has passed or exceeded the industrial standards. Whether onshore or offshore wind facilities- control panels of investors, pitch control, yaw control, safety control, or elevator, the products of Hua Wei are the best choice and helpful to raise the safety control and efficiency.

In commercial and household wind energy markets, manufacturers of small wind turbine will face more competitions. How to accelerate assembly efficiency and shorten the period of entering the market, maximize the quality and stability of equipment, and at the same time, to decrease the cost of ownership are great challenges. The total wiring solution of Hua Wei will give you a hand to keep leadership in the market.

As wind power stations are often located in harsh and challenging environments. The cable ties and associated accessories in the nacelles, hubs, towers, substations, panel cabinets and control rooms are exposed to extreme temperatures, UV rays, chemicals, and even electromagnetic interference. In addition, wind turbines need to withstand headwinds in order to generate electricity efficiently, so the cables are often high voltage, bulky and heavy. Otherwise, the top of the turbine is subjected to high wind loads and even ice accumulation.
Since a turbine design life of 20 years, the corresponding cable installation accessories should also take into account various factors, such as product reliability, speed of installation, safety and knowledge of materials and performance. The pressure on the supply chain and contractors to manage the cables is often enormous. Cables are tangled in loops and not properly planned, which can easily cause damage and increase the frequency of maintenance. Cold climates tend to make ties cracked, so engineers can choose material modifiers to extend the life of cable ties and associated accessories. Besides, offshore wind power will also require salt-damage resistant materials, so it is important to choose high quality materials.
Hua Wei can help you choose the right product combination of heavy-duty ties, cold-, UV- and salt-damage resistant cable ties. It depends on our professional materials knowledge and extensive industry experience.
Hua Wei's products provide you perfect wire management in wind energy.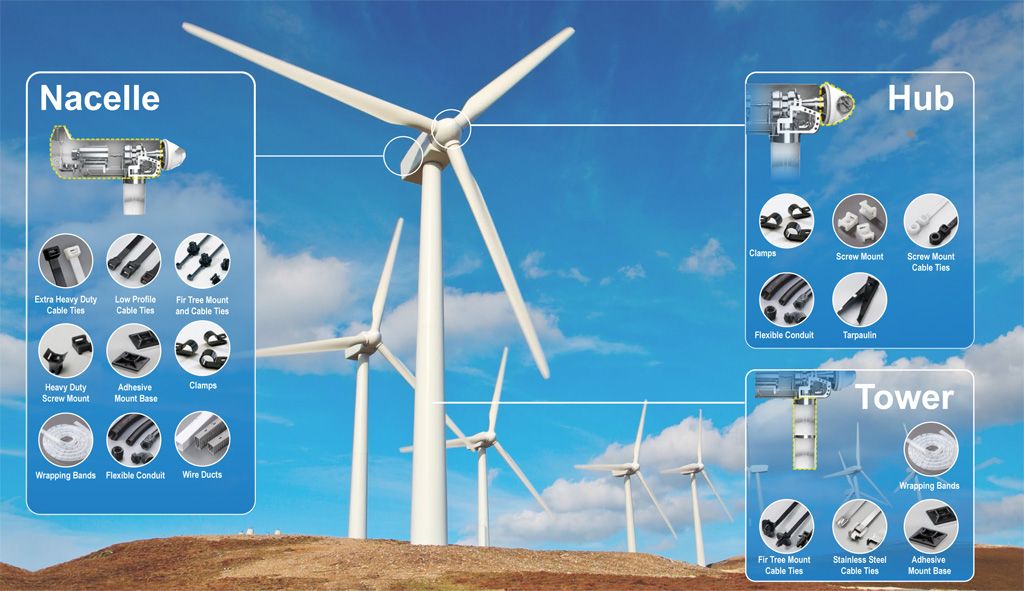 Wind Turbine Application
Special Designed Cable Ties
Cable Tie Accessories
Cable Protection
Contact us
for more industry expert advice.
Download
the product brochure.
Why Choose Hua Wei?
Advantage of Hua Wei:
Over 45 years experiences in designing and manufacturing of cable ties.
Core technology: Precise stamping and molding injection.
Rich experience and specialty of precise molding in engineering plastic Polyamide 6,6
Advanced molding facilities and outstanding R&D teamwork
Our in-house molding capability allows great flexibility in production and enables us to develop products collaboration with our clients.
Providing customize packaging design and work in process with your brand.
Stable supply chain with on-time delivery.
Remarks: Hua Wei is a professional OEM factory, followed the MOQ for each order.
New Product
Wind Turbine | Plastic & Stainless Steel Cable Ties Manufacturer | HUA WEI
Located in Taiwan since 1976, HUA WEI INDUSTRIAL CO., LTD. has been a plastic and stainless steel cable ties manufacturer. Their main cable ties, include plastic cable ties, stainless steel cable ties, heavy duty cable ties, cable markers, security seals, fasteners, cable clips, cable clamps, tie mounts and cable tie accessories, which are IATF 16949 and ISO certified and meet RoHS and REACH standards.
With more than 40 years' experience in designing and manufacturing of cable ties, Hua Wei's products have gained UL, CSA, GL, CE, and CQC accreditation and of high quality and suitable to apply to all kinds of severe industrial environments. Rich experience and specialty of precise molding wit engineering plastic polyamide 6,6. Advanced molding facilities, and outstanding R&D teamwork.
HUA WEI has been offering customers high-quality cable ties worldwide, both with advanced technology and 40 years of experience, HUA WEI ensures each customer's demands are met.
View our quality cable tie products
Cable Tie
,
Plastic Cable Ties
,
Tube Ties
,
Stainless Steel Cable Tie
,
Stainless Steel Ties
,
Bundling Clips
,
Bushings
,
Cable Clamps
,
Cable Clips
,
Cable Glands
,
Cable Markers
,
Cable Tie Mounts
,
Card Spacer Supports
,
Circuit Board Bolts
,
Conduit Adaptors
,
Conduit Clips
,
Conduit Mounting Brackets
,
Cord Grips
,
Cord-End Ferrules
,
Corrugated Conduits
,
Crimp Connectors
,
Expansion Anchors
,
Head Phillip Slotted Screws
,
Hex Head Screws
,
Hex Nuts
,
PCB Supports
,
Pipe Clips
,
Raceway Fittings
,
Saddles
,
Security Seals
,
Spiral Wrapping Bands
,
Stainless Steel Bands
,
Stainless Steel Buckles
,
Twist Locks
,
Wire Connectors
,
Wire Ducts
and feel free to
Contact Us
.