Control Panels
Excellent Wiring Solution for Control Panels
With continuous development of manufacturing technologies, weather machine manufacturers, automatic control system suppliers, or control panel manufacturers confront with greater challenges. Such as design and fabrication more sophisticated and complicated of control panels and the shorter period from customer's order, design, and assembly to delivery. How to control cost and increase efficiency are important issues.

High quality and full range of Hua Wei's wiring accessories are suitable for all kinds of switchboards and control panels. We emphasized the detail of engineering to improve the installed efficiency. We insist on high quality of products to decrease the cost of rework. Hua Wei also provided ergonomically designed tools, which have achieved effort saving and speed up installation. Hua Wei's Cable Ties, Wiring Ducts and Terminals are certified by UL and comply with global electrical and electronic regulation by providing reliable wire fastening and electrical connecting. Our experienced technical team develops new products and manufacture technology depends on market needs while continuously improved existing products for better engineering and performance. That is how we help our customers stay leadership in their industries. Moreover, that is why our excellent wiring solution of control panels will offer you the lower cost of ownership and reduce the time to enter market.
With the development of power generation technology, control panel enclosure was also created. A typical electrical control panel enclosure consists of a combination of wiring circuits, control panels and switches. Control panel enclosures are used to manage integrated wire cables, controllers, and circuit breakers. Open type control panel enclosure can be installed in production sites and offices where the risk of electric shock is low, while closed type control panel enclosure should be installed in processing workshops, casting, fabrication, forging, heat treatment, boiler rooms and woodworking rooms where the risk of electric shock is high.
Electrical panel enclosure should be safe. Unorganized or tangled cables and wires can lead to short circuits and fires, which can endanger the lives of operators. In addition, the cable accessories used to secure the cable should also be safe so that sharp edges do not harm the cable or even the operator.
Wire ducts used in distribution panels with sharp edges or flash can directly damage the cable and endanger the safety of the operator during and after installation. The panel manufacturer will need to touch the wire ducts frequently, requiring fingers to be inserted or touched. Any flash or sharp edges can cause injury.
The electrical panel enclosure should be efficient, as interference can occur between different circuits, so it is necessary to identify and separate the cables to avoid the risk of interference. The cables and wires need to be identified and organized in an orderly manner so that they can be repaired quickly by the maintenance staff.
Electrical panel enclosure should be clear, as operators may be confused by the confusing cables and wires. This may lead to operational errors and may cause the system to shut down.
Hua Wei's products provide you perfect wire management in panel building: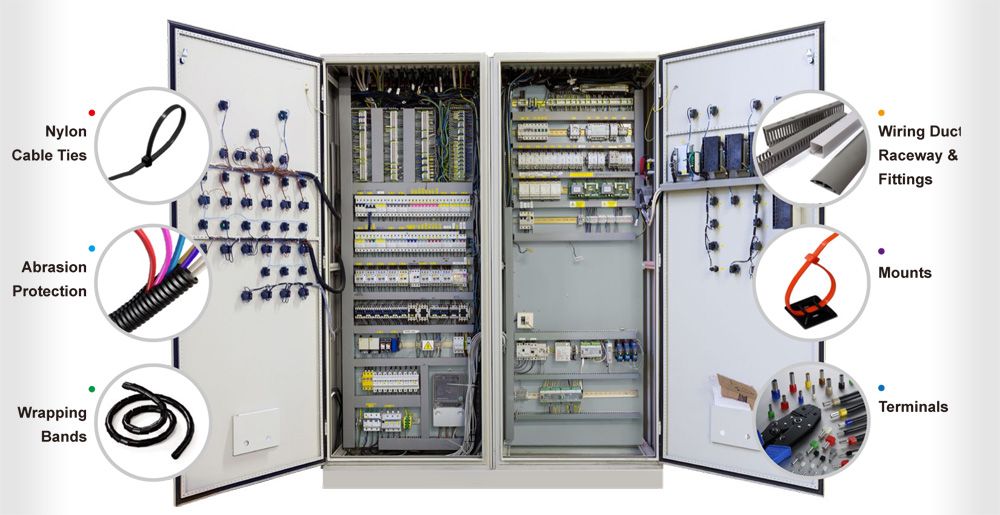 Designed for bundling and securing wires, cables, hoses, etc., Hua Wei's standard nylon cable ties are available in a range of tensile strengths from 18 to 250 lbs. and in a variety of lengths and colors to meet a wide range of electrical, industrial and network applications. Internal serrations allowing for a positive hold onto cable and pipe bundles. One-piece construction allows for consistent performance and reliability.
In addition to interior application, stainless Steel cable ties are also a good option for exterior panel building. They can provide additional protection, and they are highly durable against water, rust and other common elements that can damage the metal. These stainless steel cable ties can be used in the most arduous of conditions or where additional strength, security and fire resistance is required.
These mounts not only easy and quick when installation, but also the materials used are also from quality suppliers. A wide range of materials, sizes, colors, and adhesive options are available for installation to suit the customer's application. Self-adhesive mounting mounts are perfect when you need to secure cables and wires on convex, concave, and angled surfaces. They are suitable for a wide range of applications on plastic or metal surfaces in many areas such as electrical cabinets, railways, aerospace, automotive and agricultural machinery.
These cable tie mounts are very small in their overall size. They are designed for simple yet robust installation particularly in areas with high vibrations and/or limited space. They are a common fixing method for telecoms equipment, switchgear and control cabinets. Suitable for applications with minimal space.
Wiring duct & trunking products for routing and concealing wiring in control panels. They are available in numerous configurations, materials, sizes and colors to accommodate any application. These wiring ducts feature fingers or slots that enable easy breaking or customization. The cover is firmly in place, even under challenging conditions such as vertical installation and vibration. The wiring ducts must therefore also be mounted close to the cover.
The ideal solution for protecting and covering the electrical cables and optical fibers away from solvents, liquid, abrasion, puncture, vibration and friction. They are used to protect cables in machines and plant construction, and robotics as well as leads to switch cabinets.
The electrical panel contains terminals for the electrical connections of the various components that are clearly arranged for installation. Terminal blocks are found on a wide range of power management and industrial equipment, including motor protection relays, variable frequency drives, power supplies and connectors, programmable logic controllers, traffic control and so on.
Made of flexible materials like plastic or rubber, serve various purposes in electrical distribution cabinets. They are used for organizing and securing wires, protecting cables from external damage, and isolating specific wires or cables to prevent interference or short circuits. These bands provide a protective casing that extends the lifespan of cables.
Contact us
for more industry expert advice.
Download
the product brochure.
Why Choose Hua Wei?
Advantage of Hua Wei:
Over 45 years experiences in designing and manufacturing of cable ties.
Core technology: Precise stamping and molding injection.
Rich experience and specialty of precise molding in engineering plastic Polyamide 6,6
Advanced molding facilities and outstanding R&D teamwork
Our in-house molding capability allows great flexibility in production and enables us to develop products collaboration with our clients.
Providing customize packaging design and work in process with your brand.
Stable supply chain with on-time delivery.
Remarks: Hua Wei is a professional OEM factory, followed the MOQ for each order.
New Product
Control Panels | Plastic & Stainless Steel Cable Ties Manufacturer | HUA WEI
Located in Taiwan since 1976, HUA WEI INDUSTRIAL CO., LTD. has been a plastic and stainless steel cable ties manufacturer. Their main cable ties, include plastic cable ties, stainless steel cable ties, heavy duty cable ties, cable markers, security seals, fasteners, cable clips, cable clamps, tie mounts and cable tie accessories, which are IATF 16949 and ISO certified and meet RoHS and REACH standards.
With more than 40 years' experience in designing and manufacturing of cable ties, Hua Wei's products have gained UL, CSA, GL, CE, and CQC accreditation and of high quality and suitable to apply to all kinds of severe industrial environments. Rich experience and specialty of precise molding wit engineering plastic polyamide 6,6. Advanced molding facilities, and outstanding R&D teamwork.
HUA WEI has been offering customers high-quality cable ties worldwide, both with advanced technology and 40 years of experience, HUA WEI ensures each customer's demands are met.
View our quality cable tie products
Cable Tie
,
Plastic Cable Ties
,
Tube Ties
,
Stainless Steel Cable Tie
,
Stainless Steel Ties
,
Bundling Clips
,
Bushings
,
Cable Clamps
,
Cable Clips
,
Cable Glands
,
Cable Markers
,
Cable Tie Mounts
,
Card Spacer Supports
,
Circuit Board Bolts
,
Conduit Adaptors
,
Conduit Clips
,
Conduit Mounting Brackets
,
Cord Grips
,
Cord-End Ferrules
,
Corrugated Conduits
,
Crimp Connectors
,
Expansion Anchors
,
Head Phillip Slotted Screws
,
Hex Head Screws
,
Hex Nuts
,
PCB Supports
,
Pipe Clips
,
Raceway Fittings
,
Saddles
,
Security Seals
,
Spiral Wrapping Bands
,
Stainless Steel Bands
,
Stainless Steel Buckles
,
Twist Locks
,
Wire Connectors
,
Wire Ducts
and feel free to
Contact Us
.