Company Profile
About Us
Hua Wei Industrial Co., Ltd. is a leading manufacturer of wire and cable management products in the world. Since 1976, Hua Wei has delivered excellence by consistently providing customers with extraordinary quality, first-class customer service, competitive pricing, and timely delivery. With rich experience and expertise, Hua Wei's global reach and presence is unmatched in the industry.

Headquarter in Taichung Taiwan, Hua Wei has expanded its manufacturing operations overseas in China and Thailand that are vertically integrated in design, manufacturing, processing, assembly, and packaging, thus expediting its response to changes in customer needs and market requirements. Moreover, all of Hua Wei manufacturing facilities are certified to IATF 16949, ISO9001, and ISO14001, complying with top-level quality systems and minimizing environmental impacts.

Hua Wei offers exceptional service combined with a large selection of products for a variety of applications in electrical, electronics, telecommunications, automotive, shipbuilding, rail, energy, construction, and retailing industries. In addition, to meet industry needs and market requirements, Hua Wei's products have gained UL, CE, UKCA, CSA, ABS, DNV, BV, Lloyd's Register and CQC accreditations and are all compliant with RoHS and REACH regulations.

Building its competitive advantage upon the core goals of innovation, continuous improvement and complete customer satisfaction, Hua Wei always spares no effort in advanced research and development to maintain its leading position and continually invests in its manufacturing operations to ensure customers receive the highest quality products and services.

Milestone

Time
Achievement
1976
Hua Wei Industrial Co., Ltd. founded in Taiwan.
1977
Commenced manufacture of cable ties, primarily supplying the electrical component market in Taiwan.
1981
Purchased more land for an additional factory and machinery due to rapid expansion.
1985
Expanded into overseas markets.
1995
Hua Wei (Taiwan) obtained ISO 9002 accreditation to meet the market demands for high quality products. Manufacturing facilities relocated to Shanghai, China, while marketing staff remained in Taiwan.
2002
Expanded market reached to cover the automotive industry.
2006
Annual cable ties produced reached 10 billion units, establishing Hua Wei as the largest cable tie manufacturer in Asia.
Second factory set up in Shanghai to cope with ever-growing demand.
2007
New facility opened in Dong Guan to expand production and to fulfill the satisfaction of the large Southern China market line and supplied the large Southern China market.
2008
Established Thailand plant and commenced manufacturing cable ties.
Obtained ISO14001 accreditation to observe the environment policies.
Acquired ISO/TS16949 accreditation to comply the quality system of automotive industry.
2009
Devoted to development green materials and products for green energy industry application.
Employ Computer-Aided Engineering(CAE) to accelerate the period of new product development.
2010
Expanded the capacity of Thailand Factory to supply the global market.
2013
Thailand Factory has passed the compliance audit of C-TPAT (Customs-Trade Partnership Against Terrorism) led by U.S. Customs and Border Protection (CBP).
Obtained the Canadian CSA product certification.
2014
Purchased 2,500 square meters of land on Road 27, Taichung Industrial Park, Taiwan, and planned a new headquarters office.
2015
Obtained the American ABS shipping certification.
2016
Obtained the French BV shipping certification.
2017
The new office of Huawei's Headquarters at Taiwan was completed and opened.
Establish the research and technology development center in Taiwan headquarters, centralizing and accelerating industry innovation and value creation.
Built the 2nd factory in Thailand, expanding the production scale and strengthening the international competitiveness.
Thailand Factory has passed the audit of BSCI (Business Social Compliance Initiative)
Obtained DNV shipping certification.
Obtained the British Lloyd's Register shipping certification.
2018
Complete the transition from ISO/TS 16949:2009 to IATF 16949:2016 for complying the newest quality standard of automotive industry
2020
Established US branch and shipping warehouse.
The general-purpose cleaning sponge successfully entered the largest home center in the United States.
The production process of the factory has entered a high degree of automation, and the production capacity has been greatly increased.
The factory implements air-conditioning for the whole production facility, and makes the consistency of product quality more stable.
2021
The cable tie installation tool GIT-703 has been granted invention patents in many countries.
Applying for multi-national patents for the cable tie installation tool GIT-709.
The cable tie has been obtained the American UL Type 21S certification.
Obtained Saudi Arabia SABER certification.
OEM & ODM Service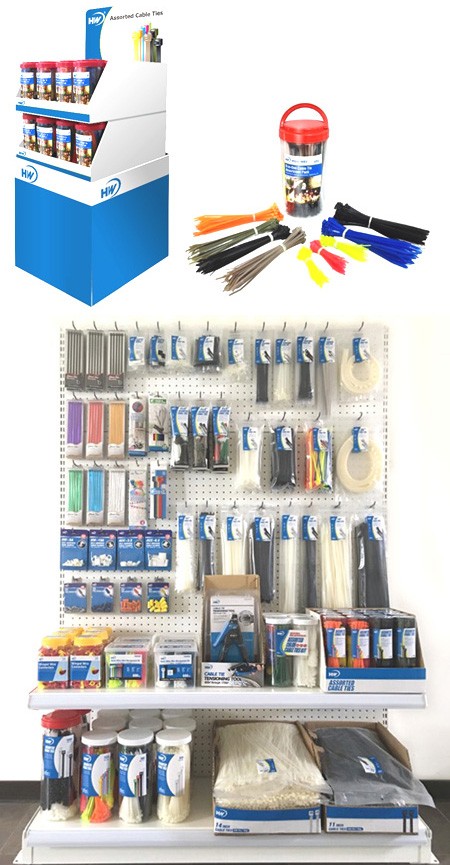 Advantages of Hua Wei:
Over 40 years experiences in designing and manufacturing of cable ties.
Rich experience and specialty of precise molding in engineering plastic Polyamide 6,6
Advanced molding facilities and outstanding R&D teamwork
Our in-house molding capability allows great flexibility in production and enables us to develop products collaboration with our clients.
Core technology: Precise stamping and molding injection.
Hua Wei devoted itself to develop new product for customers. The consistent and standard process from molding, producing, to customer labeling, Hua Wei offers total solution of OEM & ODM service. Over 40 years of experience in precise stamping and molding, our quality of products and yield rate lead in the industry. We provide not only optimized and competitive products but also better cost-performance value.
Besides, the mass production and global logistic capability of Hua Wei, makes us being the first choice to work with. Our customers are in electrical, electronics, communication, automotive manufacturing, off-shore and ship-building, railroad, energy, and construction industries.
Certificates

Exhibition Scene
New Product
Company Profile | Taiwan Heavy Duty Cable Ties Manufacturer | HUA WEI
Located in Taiwan since 1976, HUA WEI INDUSTRIAL CO., LTD. has been a plastic and stainless steel cable ties manufacturer. Their main cable ties, include plastic cable ties, stainless steel cable ties, heavy duty cable ties, cable markers, security seals, fasteners, cable clips, cable clamps, tie mounts and cable tie accessories, which are IATF 16949 and ISO certified and meet RoHS and REACH standards.
With more than 40 years' experience in designing and manufacturing of cable ties, Hua Wei's products have gained UL, CSA, GL, CE, and CQC accreditation and of high quality and suitable to apply to all kinds of severe industrial environments. Rich experience and specialty of precise molding wit engineering plastic polyamide 6,6. Advanced molding facilities, and outstanding R&D teamwork.
HUA WEI has been offering customers high-quality cable ties worldwide, both with advanced technology and 40 years of experience, HUA WEI ensures each customer's demands are met.
View our quality cable tie products
Cable Tie
,
Plastic Cable Ties
,
Tube Ties
,
Stainless Steel Cable Tie
,
Stainless Steel Ties
,
Bundling Clips
,
Bushings
,
Cable Clamps
,
Cable Clips
,
Cable Glands
,
Cable Markers
,
Cable Tie Mounts
,
Card Spacer Supports
,
Circuit Board Bolts
,
Conduit Adaptors
,
Conduit Clamp Assembly
,
Conduit Clips
,
Conduit Mounting Brackets
,
Conduits
,
Cord Grips
,
Cord-End Ferrules
,
Corrugated Conduits
,
Crimp Connectors
,
Edge Clips
,
Expansion Anchors
,
Grommets
,
Head Phillip Slotted Screws
,
Hex Head Screws
,
Hex Nuts
,
Hole Plugs
,
PCB Supports
,
Pipe Clips
,
Plastic Rivets
,
Raceway
,
Raceway Fittings
,
Saddles
,
Security Seals
,
Spiral Wrapping Bands
,
Stainless Steel Bands
,
Stainless Steel Buckles
,
Tarpaulin
,
Twist Locks
,
Wire Connectors
,
Wire Ducts
and feel free to
Contact Us
.