Cable Ties, ETFE, 370mm, 7.4mm
CR-370HD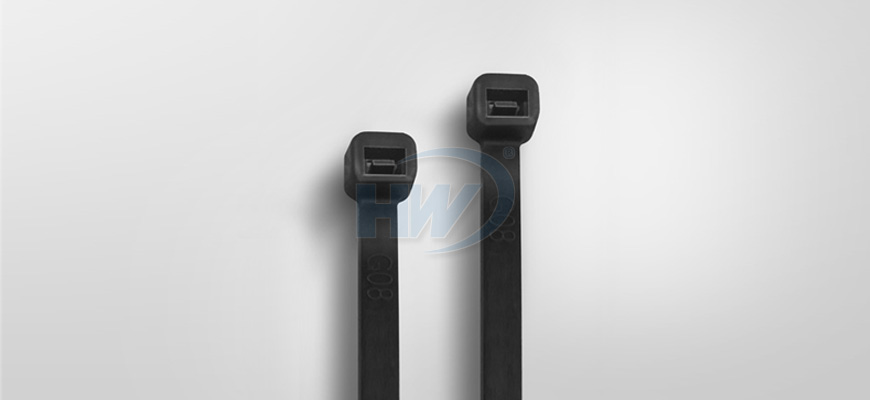 Chemical Resistant Cable Ties, heavy duty cross section, 14.5" (370mm) length, 100lbf tensile strength
Product Grouping
Description
Chemical Resistant Cable Ties can be used in severe environments including Salts, Hydrocarbons (Oil, Lubricants), Chlorinated Hydrocarbons, Acids,Bases, Acid Rain, and High Temperature Applications. Ideal for use in the chemical process industry and related harsh environments.
Features
ETFE is superior resistance to chemical attack
Continuous operating temperatures up to 150°C(302°F)
One-piece construction for consistent performance and reliability
Internal serrations allowing for a positive hold
Description
Part Name
Chemical Resistant Cable Ties
Material
ETFE
Flame rating
UL94V-0
Color
Black
Certificate
RoHs,HF
Operating Temperature
°C
-50 ~ 150
°F
-58 ~ 302
Min Installation Temperature
°C
-20
°F
-4
Length (L)
mm
370
inch
14.57
Width (W)
mm
7.4
inch
0.29
Max.Bundle ø
mm
102
inch
4.02
Min. Loop Tensile Strength
N
445
Kgf
45.4
Lbf
100
Certificate

Catalogue

---

Describe about features, materials, specifications of Chemical Resistant Cable Ties

---

---

Related Products

GIT-704G

---

GIT-704G tensioning tool, for intermediate to heavy duty cable ties, utilizes manual operation to tension and cut off cable tie. Tensioning tools provides consistent use over many cycles and non-slip cushioned handles for comfort and control.

---

GT-370HD-TF

---

Tefzel® Cable Ties are specialized cable ites recommended for applications requiring resistance to environmental stresses such as chemical attack, gamma radiation, ultraviolet radiation, and extreme temperatures Ideal for use in nuclear power facilities and chemical processing plants

---

---
New Product
Cable Ties, ETFE, 370mm, 7.4mm Manufacturer - HUA WEI
Based in Taiwan, HUA WEI INDUSTRIAL CO., LTD. is a professional manufacturer of Cable Ties, ETFE, 370mm, 7.4mm since 1976.
IATF 16949, ISO 9001, and ISO 14001 cable tie green manufacturing with UL, CE, CSA, ABS, DNV GL, BV and CQC accreditations, as well as meeting RoHS and REACH regulations. HUA WEI's ten billion cable tie production capability has allowed them to become one of the largest cable tie manufacturers in Asia.
Cable tie accessories, cable clips and clamps, cable makers, expansion anchors, PCB supports and screws, cable protections, wire terminations and application tools are available, along with cable ties.
HUA WEI has been selling customers high quality cable ties worldwide. With over one- hundred 180~1000 tons molding machines, advanced technology and 40 years of experience, HUA WEI ensures each customer's demands are met.
View our quality cable tie products
Cable Tie
,
Plastic Cable Ties
,
Tube Ties
,
Stainless Steel Cable Tie
,
Stainless Steel Ties
,
Bundling Clips
,
Bushings
,
Cable Clamps
,
Cable Clips
,
Cable Glands
,
Cable Markers
,
Cable Tie Mounts
,
Card Spacer Supports
,
Circuit Board Bolts
,
Conduit Adaptors
,
Conduit Clamp Assembly
,
Conduit Clips
,
Conduit Mounting Brackets
,
Conduits
,
Cord Grips
,
Cord-End Ferrules
,
Corrugated Conduits
,
Crimp Connectors
,
Edge Clips
,
Expansion Anchors
,
Grommets
,
Head Phillip Slotted Screws
,
Hex Head Screws
,
Hex Nuts
,
Hole Plugs
,
PCB Supports
,
Pipe Clips
,
Plastic Rivets
,
Raceway
,
Raceway Fittings
,
Saddles
,
Security Seals
,
Spiral Wrapping Bands
,
Stainless Steel Bands
,
Stainless Steel Buckles
,
Tarpaulin
,
Twist Locks
,
Wire Connectors
,
Wire Ducts
and feel free to
Contact Us
.