Special Material Cable Ties and Accessories
A range of cable ties and fasteners available in multiple materials designed to meet advanced application needs, such as HAVC material for air handling space, heat stabilized for electrical, weather resistant for outdoor, self-extinguishing material for higher fire protection, frigid cold stabilized (-60°C) material for frigid area or refrigeration, Polypropylene for aggressive chemicals, PA12 for continuous sunlight, etc.
Heat Stabilized / Resistant Cable Ties
UL plenum, high temperatures resistance up to 120°C in continuous. ideal for electrical, equipment application or where heat is generated, etc.
UV-Radiation 3600 Hours Resistant Cable Ties and Accessories
PA12, pass the accelerated weathering test approximately 3600 hours, ideal for solar PV, dessert, and outdoor application, etc.
Flame Resistant / Self Extinguishing Cable Ties
UL94V-0, for higher fire protection, areas where low smoke emission or low flammability are required, crowded and public areas.
Weather Resistant / UV Stabilized Cable Ties
UL plenum, pass the accelerated weathering test approximately 1000 hours, suitable for outdoor, and air-handling applications.
Extreme Environmental Stresses Resistant Tefzel Cable Ties
Tefzel, high resistance to environmental stresses (chemical attack, gamma radiation, ultraviolet radiation), ideal for use in nuclear power facilities, chemical processing plants, semiconductor, defense, and medical industries, etc.
Chemical Resistant (Acids and Bases) Cable Ties
Polypropylene, resistant to aggressive substances such as acids, bases, and salts. High temperatures resistance up to 115°C in continuous. ideal for chemical industry, etc.
Frigid Weather Stabilized (-60°C) Cable Ties
withstand long period of exposure to sub-zero temperature, ideal for frigid area applications, aviation, shipbuilding, refrigeration, and frozen food industries, etc.
Cold Weather Stabilized (-40°C) Cable Ties
DIN5510-2, ideal for frozen storage equipment, low temperature logistics distribution, etc.
Metal Detectable / Food Graded Cable Ties and Accessories
ideal for packaging and machine maintenance in the food and pharmaceutical industries, etc.
Stainless Steel Cable Ties and Accessories
excellent resistance to abrasion, corrosion, radiation, weathering and extremes of temperature, ideal for applications in marine, oil and gas, mining, construction, chemical, maintenance, automotive, etc.
Air Handling / HVAC Cable Ties
UL plenum, used in heating or air handling spaces above drop ceilings and below raised flooring, and plumbing applications, etc.
Colored Cable Ties
available in a wide range of colors: red, yellow, green, blue, grey, for decorating on autos, bicycles, plants or for festive decorations, etc.
*ALL PICTURES SHOWN ARE FOR ILLUSTRATION PURPOSE ONLY.
Material Description
Plastic ties can be made from a variety of materials depending on the application. Polyamide, also known as nylon, is an ideal material that can be processed by injection molding into high quality products. Approximately 90% of Hua Wei's ties and fasteners are made from this material. For higher chemical resistance or certain industries, we can use other materials to suit the application.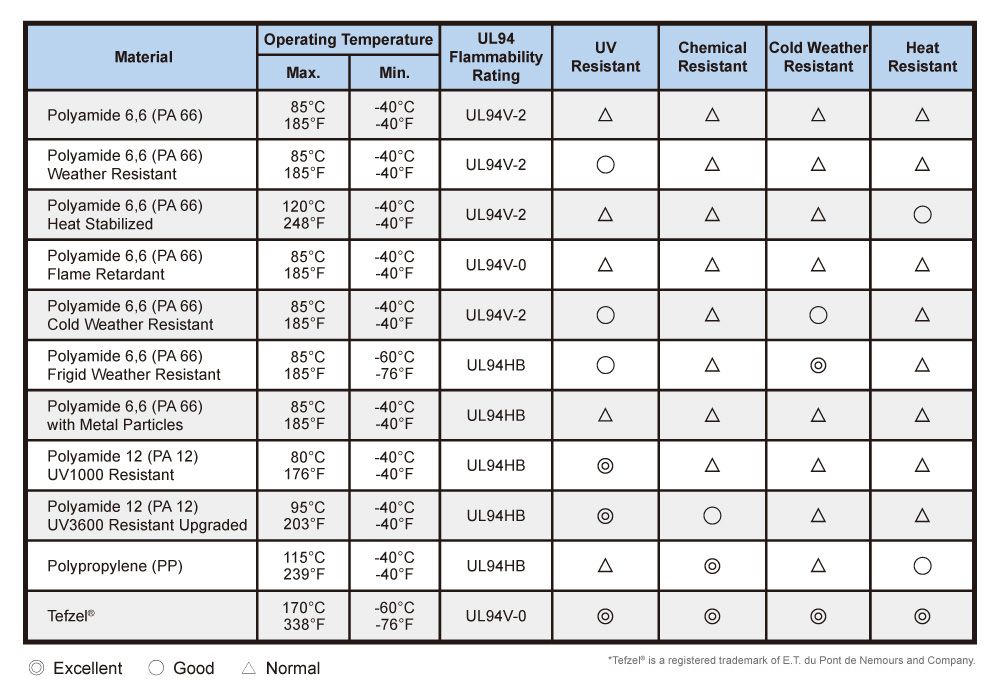 Polyamide 6,6 standard for temperature conditions of up to +85˚C (185˚F).
Polyamide 6,6 Weather Resistant for outdoor use.
Polyamide 6,6 Heat Stabilized for temperature conditions of up to +120˚C (248˚F).
Polyamide 6,6 Flame Retardant UL94V-0 for high standards of fire protection.
Polyamide 6,6 Cold Weather Resistant can be exposed to zero temperatures for a long time.
Polyamide 6,6 Frigid Weather Resistant enhanced flexibility and toughness for -60˚C (-76˚F) cold temperature applications.
Polyamide 6,6 Metal Detectable can be detected by a metal detector.
Polyamide 12 with high UV resistance, suitable for long-term outdoor use.
Polypropylene (PP) are higher chemical resistant for use in chemical process industry or related hash environments.
Tefzel / ETFE are recommended for applications requiring high resistance to environmental stresses such as chemical attack, gamma radiation, ultraviolet radiation, and extreme temperatures.
Download Catalogue
Need quotation? Please contact us.
Product Certification
Hua Wei's cable ties have gained UL, CE, UKCA, ABS, DNV, BV, and Lloyd's Register accreditations and are all compliant with RoHS and REACH regulations.

How to choose the right cable tie? What is their application for?

There are many types of cable ties, definitely not just the Nylon 6,6 cable ties. Different materials of ties have different characteristics and are used for different purposes in various industries. The table below allows you to find out the characteristics of different materials according to your industry or application, and can help you select the right material… [read more…]

What is the Application for Metal Detectable Material? Why cable ties need to pass FDA Testing?

In the process of food production, there are various hazards that can lead to errors in sanitation management, including microorganisms and foreign substances entering the food processing process. Metal detectable plastics are mainly used in components and products in the food production and packaging industry. They allow professionals to use metal detectors to reduce the risk of food damage or plastic contamination… [read more…]

Solar Cable ties and Fasteners for Wire Management Practices in Solar PV

Properly securing photovoltaic conductors and wires is closely related to the productivity, safety, and longevity of solar array. As for PA 12, it can withstand drastic temperature drops, even staying strong in below freezing periods. Overall, it is stiff, resistant to cracking,… [read more…]

The King of Plastic, Tefzel Is the Best to Make the Perfect Product

Tefzel® ETFE (ethylene-tetrafluoroethylene) resins are melt-processable copolymers with excellent physical toughness, radiation resistance, chemical resistance, UV resistance, and resistance to extreme temperature changes. Applications in the plastics and rubber industry: molds for the manufacture of rubber … [read more…]
New Product
Special Material Cable Ties and Accessories | Over 40 Years Stainless Steel & Releasable Cable Ties Manufacturer | HUA WEI
Located in Taiwan since 1976, HUA WEI INDUSTRIAL CO., LTD. has been a plastic and stainless steel cable ties manufacturer. Their main cable ties, include plastic cable ties, stainless steel cable ties, heavy duty cable ties, cable markers, security seals, fasteners, cable clips, cable clamps, tie mounts and cable tie accessories, which are IATF 16949 and ISO certified and meet RoHS and REACH standards.
With more than 40 years' experience in designing and manufacturing of cable ties, Hua Wei's products have gained UL, CSA, GL, CE, and CQC accreditation and of high quality and suitable to apply to all kinds of severe industrial environments. Rich experience and specialty of precise molding wit engineering plastic polyamide 6,6. Advanced molding facilities, and outstanding R&D teamwork.
HUA WEI has been offering customers high-quality cable ties worldwide, both with advanced technology and 40 years of experience, HUA WEI ensures each customer's demands are met.
View our quality cable tie products
Cable Tie
,
Plastic Cable Ties
,
Tube Ties
,
Stainless Steel Cable Tie
,
Stainless Steel Ties
,
Bundling Clips
,
Bushings
,
Cable Clamps
,
Cable Clips
,
Cable Glands
,
Cable Markers
,
Cable Tie Mounts
,
Card Spacer Supports
,
Circuit Board Bolts
,
Conduit Adaptors
,
Conduit Clips
,
Conduit Mounting Brackets
,
Cord Grips
,
Cord-End Ferrules
,
Corrugated Conduits
,
Crimp Connectors
,
Expansion Anchors
,
Head Phillip Slotted Screws
,
Hex Head Screws
,
Hex Nuts
,
PCB Supports
,
Pipe Clips
,
Raceway Fittings
,
Saddles
,
Security Seals
,
Spiral Wrapping Bands
,
Stainless Steel Bands
,
Stainless Steel Buckles
,
Twist Locks
,
Wire Connectors
,
Wire Ducts
and feel free to
Contact Us
.