Tools for Plastic Cable Ties, Plastic/Metal, Width2.5~4.8mm,Thickness1.0~1.6 mm
GIT-703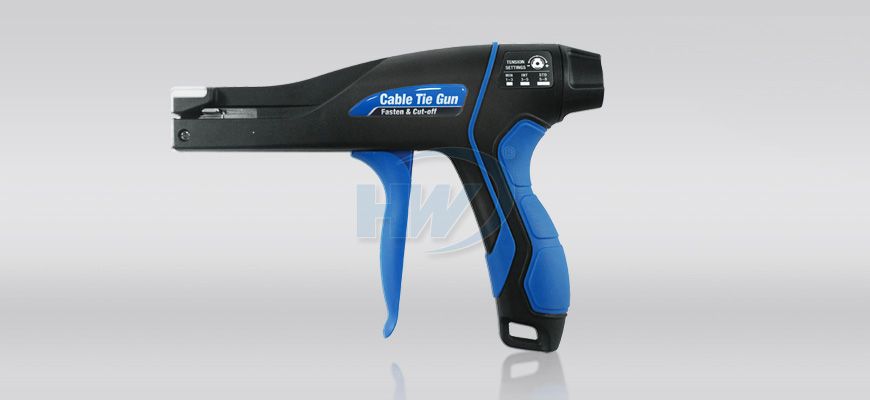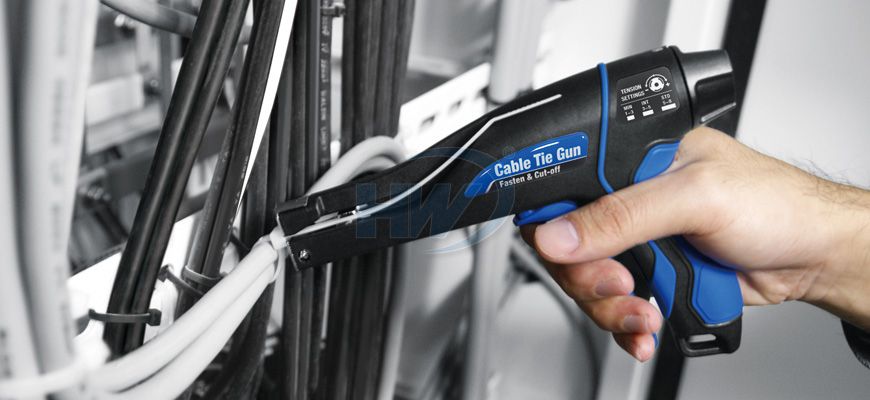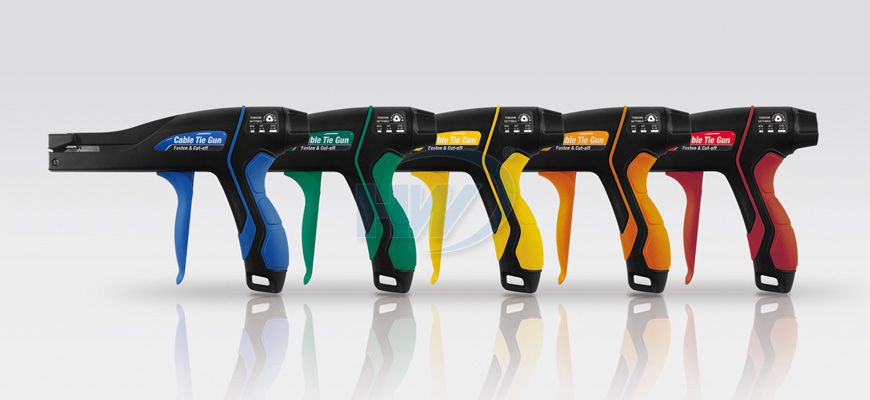 Cable Tie Gun, Cable Tie Gun Tool, Cable Tie Gun intallation Tool, Cable Tie Tool, Cable Tie Plier, Zip Tie Tool, Cable Tie Tensioning & Bundling Tools, Nylon Cable Tie Tension Tool, Cable Tie Tensioner, Hand Tool
Tools for Plastic Cable Ties,Width2.5~4.8 mm(0.09~0.19"),Thickness1.0~1.6 mm(0.04~0.06")
Product Grouping
Tools for Plastic Cable Ties
Description
GIT-703 tensioning tool, for miniature to standard cable ties, utilizes manual operation to tension and cut off cable tie.Tensioning tools provide consistent use over many cycles with tension adjustment for changing and confirming settings.
Features
Allows tensile strength from 18 to 50 pounds of tensioning force
Recommended cable ties: Width 0.10 to 0.19 inch (2.5 to 4.8mm);Thickness 0.04 to 0.06 inch (1.0 to 1.6 mm);Loop Tensile Strength 80 N through 222 N ( 18 to 50 lbf )
OPERATING INSTRUCTIONS
| | |
| --- | --- |
| | 1. Wrap the cable tie on the object and tighten it up. |
| | 2. Adjust tension settings by rotating the tension control knob. |
| | 3. Insert the cable tie strap through the tension tool and place the cutting head against the head of the cable tie. |
| | 4. Press the trigger until the cable tie strap is cut off. |
| | 5. Finish. |
TENSION ADJUSTMENT
Tension knob provides easy, blind tension adjustment.

BLADE REPLACEMENT (GIT-703 Plus)
| | |
| --- | --- |
| | 1. Firstly, adjust the tension to zero. Release the cap of the tension knob with a coin. Take out the screwdriver. |
| | 2. Unscrew the blade guard screw with the attached screwdriver. And pull out the blade guard. |
| | 3. Remove the used blade. |
| | 4. Remove the sticker on the screwdriver and take out the new blade carefully. |
| | 5. Put the new blade on the tension tool. Make sure the chamfered corner is on the upper right position. Put the blade guard back. |
| | 6. Reinstall the screw. Do not over tighten it. Put the attached screwdriver back to the tension tool. Finish. |
Part Name
Tools for Plastic Cable Ties
Material
Plastic/Metal
Dimension
mm
190x140x36
inch
7.48x5.51x1.41
Net Weight
g
230
lbs
0.5
Certificate
CE, RoHS
Applicable Cable Ties Width
mm
2.5~4.8
inch
0.10~0.19
Applicable Cable Ties Thickness
mm
1.0~1.6
inch
0.04~0.06
Certificate
OEM & ODM Service
Advantages of Hua Wei:
Over 40 years experiences in designing and manufacturing of cable ties.
Core technology: Precise stamping and molding injection.
Rich experience and specialty of precise molding in engineering plastic Polyamide 6,6
Advanced molding facilities and outstanding R&D teamwork
Our in-house molding capability allows great flexibility in production and enables us to develop products collaboration with our clients.
Providing customize packaging design and work in process with your brand.
Stable supply chain with on-time delivery.

Remarks: Hua Wei is a professional OEM factory, followed the MOQ for each order. Thank you.
Catalogue

---

Related Products

---

Video

GIT 703 - Operating Instructions

GIT-703 Plus- Blade Replacement

Patent
New Product
Tools for Plastic Cable Ties, Plastic/Metal, Width2.5~4.8mm,Thickness1.0~1.6 mm Manufacturer - HUA WEI
Based in Taiwan, HUA WEI INDUSTRIAL CO., LTD. is a professional manufacturer of Tools for Plastic Cable Ties, Plastic/Metal, Width2.5~4.8mm,Thickness1.0~1.6 mm since 1976.
IATF 16949, ISO 9001, and ISO 14001 cable tie green manufacturing with UL, CE, CSA, ABS, DNV GL, BV and CQC accreditations, as well as meeting RoHS and REACH regulations. HUA WEI's ten billion cable tie production capability has allowed them to become one of the largest cable tie manufacturers in Asia.
Cable tie accessories, cable clips and clamps, cable makers, expansion anchors, PCB supports and screws, cable protections, wire terminations and application tools are available, along with cable ties.
HUA WEI has been selling customers high quality cable ties worldwide. With over one- hundred 180~1000 tons molding machines, advanced technology and 40 years of experience, HUA WEI ensures each customer's demands are met.
View our quality cable tie products
Cable Tie
,
Plastic Cable Ties
,
Tube Ties
,
Stainless Steel Cable Tie
,
Stainless Steel Ties
,
Bundling Clips
,
Bushings
,
Cable Clamps
,
Cable Clips
,
Cable Glands
,
Cable Markers
,
Cable Tie Mounts
,
Card Spacer Supports
,
Circuit Board Bolts
,
Conduit Adaptors
,
Conduit Clamp Assembly
,
Conduit Clips
,
Conduit Mounting Brackets
,
Conduits
,
Cord Grips
,
Cord-End Ferrules
,
Corrugated Conduits
,
Crimp Connectors
,
Edge Clips
,
Expansion Anchors
,
Grommets
,
Head Phillip Slotted Screws
,
Hex Head Screws
,
Hex Nuts
,
Hole Plugs
,
PCB Supports
,
Pipe Clips
,
Plastic Rivets
,
Raceway
,
Raceway Fittings
,
Saddles
,
Security Seals
,
Spiral Wrapping Bands
,
Stainless Steel Bands
,
Stainless Steel Buckles
,
Tarpaulin
,
Twist Locks
,
Wire Connectors
,
Wire Ducts
and feel free to
Contact Us
.